We are grateful to be soon embarking on a new year and a new chapter in the life of YCP Austin! And YOU are invited to be a part of it.
A few key roles have been filled on the leadership team, a team we are looking to build as we bring YCP to new heights in 2023. Our city continues to grow at a rapid pace, many of ATX's newcomers no doubt are young, Catholic, and professional. There is much potential to bring Christ's model of servant leadership to the workplace like never before.
We hope you'll join us on Friday December 2nd, 6:30 p.m., at the Park on South Lamar for a meet-and-greet happy hour. It will be a great opportunity to learn about serving on the leadership team, or simply just connect and meet some new people.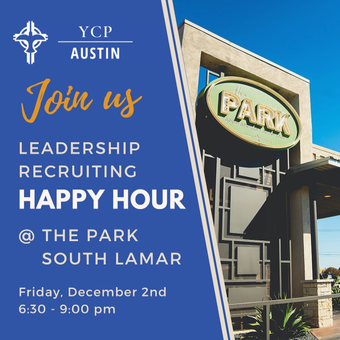 4024 S Lamar Blvd, Austin, TX 78704, USA